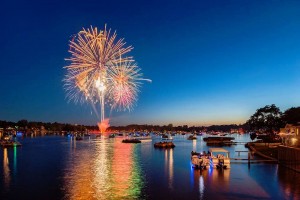 2018: JUNE 21 – JULY 4
Summers in America are a cherished time with family, friends and community. In Lake Orion, we are fortunate to have beautiful lakes, nature, recreation, entertainment, but most of all, a great community!   Let's embrace it all!
It's time for another Lake Orion's American Summer. We start the celebration with the Lake Orion Lions Club Jubilee on June 21 and continue through to the Lake Orion Fireworks Association's show on June 30 and events around the 4th. In between both of these staple events, there will be boat cruises, beer tents, pub-crawls, flare nights, contests, car shows, running events, concerts, a restaurant week and more! We encourage all businesses and organizations to get involved, by hosting an event, volunteering for one or just attending what we already have.
For more information on how you can get involved, please email us at info@loamericansummer.com.